Specifications
5 Point Scarifier TCT Cutters Concrete Milling Cutter Drum Tool Replacement Diameter 16mm For Blastrac/Edco
Product Specs:
Part No.

DESCRITION

Carbide Tip

N.W.

Fit For Machines

Y1005

5 Point TCT Flail Carbide Cutter
O.D. 43 mm x I.D. 16 mm x Width 6mm
O.D. 1.68" I.D. 0.63" Width 0.24"

4*8.5 mm

0.038kg

Edco CPM-8, Edco CPM-4/CPM-8 Edger, Edco CPM-10(1/2"), Von Arx FR-200 Trelawny TFP TFP 320 / TFP 200 /TFP 320, Bartel Multiplane BEF200, Blastrac BMP-215 SCARIFIER, KutRite KR8HD / KR10 / KR13 Scarifier;SASE SC8E
Product Application:
?Cleaning and Texturing concrete and asphalt
?Removal of paint, rust, grease, ice deposits, line markings, and concrete laitance
?Concrete reduction and scabbling
?Removal of roof chippings
?Cleaning concrete formwork and shuttering
?Removal of concrete and plaster droppings
Support:
If you are a distributor/tool hire company/technical engineer/contractor for surface prep machines, we will be able to provide all kinds of tool replacement for you. For any technical data or help, pls contact us atcarly@zzxinhe.com right now and we will reply within 24 hours.
Below are more dimension TCT carbide cutters for standard choice and pls contact us for customized dimension: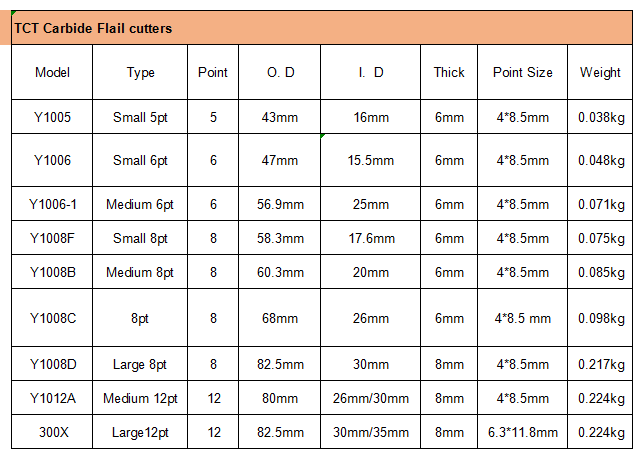 And you can download our catalogue from below link:
Full Catalogue For Cutters - Zhuzhou Xine Industry...
Best regards,
Carly Yuan / Sales Manager
Zhuzhou Xinhe Industry Co.,Ltd
Mobile: 86-18075950202 (WhatsApp)
Website: www.scarifier-cutters.com
Stay Professional. Stay Competitive