Plummer Block Bearing Housing SN 515
FOB Price:
Quick Details
| | | | | | |
| --- | --- | --- | --- | --- | --- |
| Model: | SN 515 | Type: | Pillow Block | Brand Name: | LYC ZWZ HTZC |
Specifications
Plummer Block Bearing Housing
1.Description: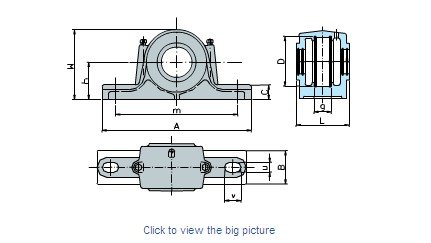 We are engaged in manufacturing plummer block for ball will. We make use of qualitative metal to manufacture our plummer blocks. These are widely used in mechanical industry. These plummer blocks are appreciated for their sturdy construction and application specific design.
Pillow blocks are usually referred to the housings which have a bearing fitted into them & thus the user need not purchase the bearings separately. Pillow blocks are usually mounted in cleaner environments & generally are meant for lesser loads of general industry. These differ from "plummer blocks" which are bearing housings supplied without any bearings & are usually meant for higher load ratings & corrosive industrial environments. However the terms pillow-block & plummer-block are used interchangeably in certain parts of the world.
HTZC roller bearing HK0509

HK0509

Needle

needle roller bearing +China direct supplier bearing +Gcr15&Gcr11 material bearing +needle roller structure +roller bearing...
2011 HTZC taper roller bearing

Series 30200,30300,32200,32300,33...

Taper

Roller

taper roller bearing 1. High precision,Long life 2. ISO9000 Quality 3. Quick delivery,good service 4. 22 year supply bearing...
Fast Feedback
liang shen
Enter your inquiry details such as:
■ Self-introduction
■ Required specifications
■ Inquire about price/MOQ
Related Products
Related Searches:
You may also be interested in:
The informations displayed above are provided by the seller. The authenticity, accuracy and legality of the content are borne by the seller. Please realize that the risks in Internet transactions are objective.