Sheet Metal Heatsink Enclosures
FOB Price:
Specifications
Description of the Sheet Metal Heatsink Enclosures:
1.Material: 2.5mm thickness CRS
2.White paint finish
3.Different sizes available

Pictures of
Sheet Metal Heatsink Enclosures: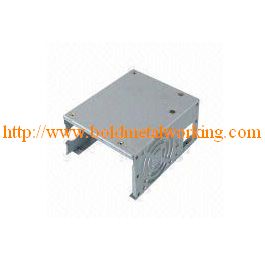 Primary competitive advantages:
*not large scale factory with low cost control
*customers designs and logos are welcome
*very competitive prices
*prompt respond and delivery
*small order acceptable
*in home or third inspection are accepted.
*Material: SS/CRS/SGCC/SECC/SPCC/0.9-2.5mm thickness.
*Construction: The size is changeable as per your requests.
*Finish: Powder coat,Plate,paiting and etc.
*Performance: High strength; Corrosion resistant; Water resistant; Smooth surface; Rational
design of inner space.
*Price: The price is adjustable according to different sizes and styles.
*Package: By your design.
*OEM orders are welcomed
*We can design the Sheet Metal Heatsink Enclosures as per your drawings or samples.


Ningbo Bold Metal Products Co.,Ltd is manufacturer and service provider of Sheet Metal Work, Sheet Metal Fabrication, Stainless Steel Fabrication, Electronic and Electrical Enclosures, Panel Boards, Machine Components, Machine Guards.
custom sheet metal fabrication

boldmetal-163

Description of custom sheet metal fabrication 1.Custom aluminum fabrication 2.Surface treatments: Anodizing, sandblasting, brushing, silk screening 3.Machinery processing: drilling, punching, e...
precision sheet metal stamping fabrication

boldmetal-164

Description of precision sheet metal stamping fabrication: 1. Our factory can manufacture precision metal stamping part, deep drawing stamping part, sheet metal processing service according to y...
Fast Feedback
Wendy Liu
Enter your inquiry details such as:
■ Self-introduction
■ Required specifications
■ Inquire about price/MOQ
Related Products
Related Searches:
You may also be interested in:
China (Mainland)
Manufacturers
Ms.Wendy Liu
86-574-88583288
86-574-88583298
Louyan Development District, Shangtian Town, Fenghua City,, Ningbo, Zhejiang, China (Mainland) /315500
The informations displayed above are provided by the seller. The authenticity, accuracy and legality of the content are borne by the seller. Please realize that the risks in Internet transactions are objective.