Specifications
Thrust Cylindrical Roller Bearing 81207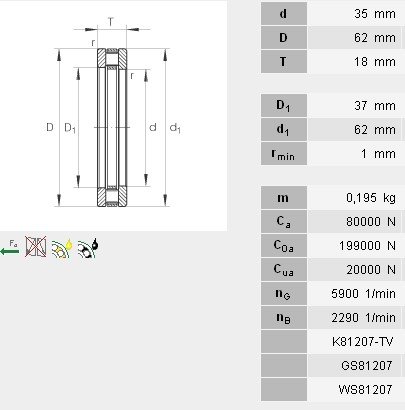 Basic Design:
1. The thrust ball bearings consist of the shaft washer, the housing washer and the ball and cage assembly.
2. The bearings are separable so that mounting is simple as the washers and the ball and cage assembly can be mounted separately.
3. It is designed to take high axial loads.
Detailed Description:
1. Series: 511 512 513 514 522 523 and so on
2. Available in two designs: single direction and double direction
3. Single direction thrust ball bearings can accommodate axial loads in one direction and thus locate a shaft axially in one direction.
4. Types: Bearing with a Flat Seat Surface on the Housing Washer.
5. Bearing with a Sphere Housing Washer on the housing washer, bearing with a sphere seat surface on the sphere housing washer, and so on.
6. Typical Applications: screws jacks, textile machinery, food processing, vertical openers and so on.
Bearing Features:
1. Simple mounting
2. Quiet and smooth operation at high speeds
3. Widespread use and variety
4. Only axial loads, no radial loads
5. Separable design