ZAZN Electric Double Seat Control Valve, WCB, WCC, WC6
FOB Price:

USD1-100/BagGet Latest Price
Minimum Order Quantity:

5 Bag/Bags
Supply Ability:

100000 Box/Boxs Week
Specifications
300X Non-Surge Check Valve closes automatically in case of prevent mediums back-flow. The Non-Surge Check Valve allows flow when inlet pressure in higher than the outlet pressure.
The valve has the principal of slow-open, quick-close and slow-close into one to prevent water hammering when the pump starts or closes. Non-Surge Check Valve opens and closes at controlled speed to ensure smooth flow.
Used on the pump outlet of a water supply system to prevent mediums back-flow, water hammer and water shock. It has three functions as an electric valve, check valve and water hammer remover.
It is capable of improving the safety and reliability of the water supply system effectively through integrating the technical principle of slow-open, speed valve, slow-close, and removing water hammer and preventing of both pump-starting and pump-stopping water hammer.
The gate can carry out open-close automatically upon the operation rules of the water pump just by operating the pump to open or close electrically. Hydraulic Check Valves features by the big flow and small pressure loss, reliable sealing performance, easy installation, debugging and maintenance and long duration.
Size below DN 450 is Diaphragm type valve
Size equal and above DN 500 is piston type valve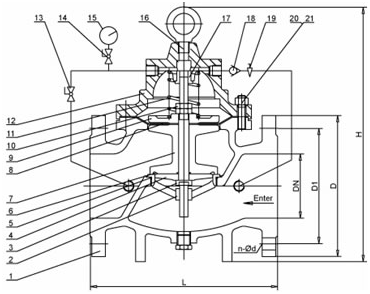 Eccentric Plug Valve, EPV, Class 150, 300, 600, 900 LB

China Eccentric Plug Valve (EPV) Manufacturer Shinjo Supplies Class 150LB, 300LB, 600LB, 900LB Eccentric Plug Valve (EPV), ASTM A216-WCB, ASTM A351-CF8.Valves, Ball Valves, Check Valves, Gate Valv...
ASME B16.34 Class 300 LB Cast Steel Gate Valve Flanged Ends

China Class 300 LB Cast Steel Gate Valve Manufacturer Shinjo Supplies Class 300 LB Cast Steel Gate Valve, ASME B16.34, Flanged Ends, Metal Seat. Features: Outside Screw and Yoke (OS & Y), Risi...
Fast Feedback
Jeasin Zhang
Enter your inquiry details such as:
■ Self-introduction
■ Required specifications
■ Inquire about price/MOQ
Related Products
China (Mainland)
Manufacturers
Ms.Jeasin Zhang
86-21 5620 6641
86-21 5641 2609
No 150, Honxing Road, Shanghai, China
The informations displayed above are provided by the seller. The authenticity, accuracy and legality of the content are borne by the seller. Please realize that the risks in Internet transactions are objective.